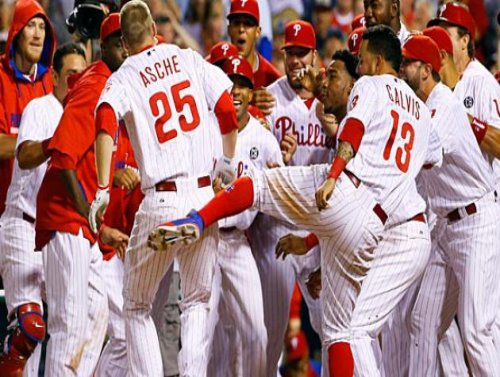 TODAY'S FEATURE STORY

PHILLIES POWER PAST METS!

  Cole Hamels pitched his third straight gem and was backed by a 
  rare offensive explosion as the Phillies beat the New York Mets, 
  6-0, at Citi Field on Tuesday night.  All six of the Phillies' runs came 
  on home runs, one a grand slam by Chase Utley.  Hamels (6-5) 
  pitched eight shutout innings, and scattered six hits.  He did not 
  walk a batter, and struck out eight.  He retired the last 13 in a row.
  Over his last three starts, all wins, Hamels has pitched 23 innings,
  and allowed just two runs.  He has 27 strikeouts, and a walk over 
  that span.  Since June 1, Hamels has a glistening 1.58 ERA (15 
  earned runs in 85 2/3 innings) over 12 starts.  He has 89 strikeouts 
  and 24 walks over those 12 starts.  His record is just 5-2 over those 
  12 starts.  The team is 8-4.
  GET THE FULL STORY
ROLLINS GETS CAREER HITS RECORD!

Jimmy Rollins is on top. He ripped a single to right field in the fifth inning of Saturday's game against the Cubs at Citizens Bank Park to set the franchise's all-time hits record. It was the 2,235th hit of Rollins' career, which passed Hall of Fame third baseman Mike Schmidt, who held the record with 2,234 hits. Rollins is already the Phillies' all-time leader in doubles. He ranks second in games, at- bats, extra-base hits and total bases; third in stolen bases, runs, and triples; fifth in RBIs; sixth in walks and ninth in home runs.

2014 Phillies Broadcast Schedule!

________________________________________________More News!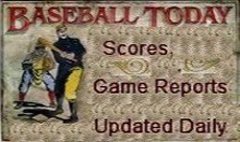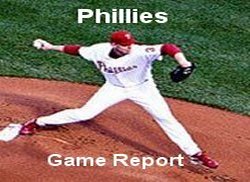 .Game Day
Scores And Summaries