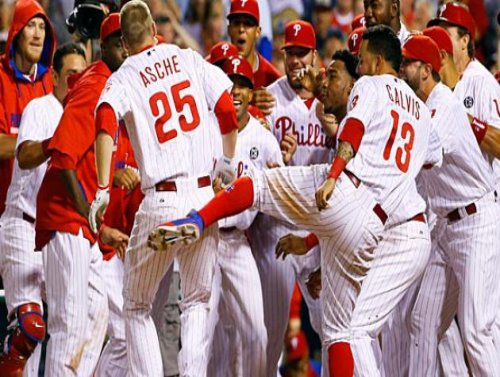 TODAY'S FEATURE STORY

PHILLIES LOSE TO GIANTS!

  With a gaggle of scouts watching from behind the backstop at Citizens 
  Bank Park, Cliff Lee returned to the Phillies' rotation Monday night after 
  spending two months on the disabled list with an elbow strain.  Lee, one 
  of the top starting pitchers on the trade market, wasn't sharp.  He was 
  the losing pitcher in the Phillies' 7-4 loss to the San Francisco Giants.
  The Phillies had 14 hits in the game, all singles.  Lee threw 90 pitches, 
  59 of which were strikes.  He threw a slew of fastballs early in the game, 
  topping out at 91 mph. His fastball was 88-90 mph from the 2nd inning 
  on.  Lee threw first-pitch strikes to just 13 of 28 batters.  The left-hander 
  carried a 4-3 lead into the sixth inning.  He allowed 3 runs in that inning 
  to lose the lead.  Cody Asche had three hits, and Jimmy Rollins and 
  Ryan Howard both had two-run singles for the Phillies
  GET THE FULL STORY
ROLLINS GETS CAREER HITS RECORD!

Jimmy Rollins is on top. He ripped a single to right field in the fifth inning of Saturday's game against the Cubs at Citizens Bank Park to set the franchise's all-time hits record. It was the 2,235th hit of Rollins' career, which passed Hall of Fame third baseman Mike Schmidt, who held the record with 2,234 hits. Rollins is already the Phillies' all-time leader in doubles. He ranks second in games, at- bats, extra-base hits and total bases; third in stolen bases, runs, and triples; fifth in RBIs; sixth in walks and ninth in home runs.

2014 Phillies Broadcast Schedule!

________________________________________________More News!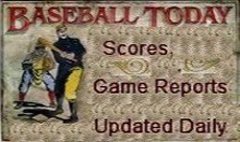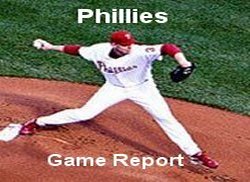 .Game Day
Scores And Summaries